Partner's shops: ASEISMANOS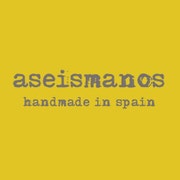 We believe in the inherent beauty of things made one at a time, and we have a commitment with the extra effort that this implies. Aseismanos is a family business. We have a background in clothes and accessories design and patterning, and all you can see is made in our little workshop.
Ours is a trend-free approach to design. We know what we like and we bring it to life in our creations emphasizing lines, patterns and materials. We source that fabric, that leather, that trim that the item needs because it deserves it, swimming against the tide sometimes, looking for suppliers that are ethically compromised, and that can adapt to the needs of a small business like ours.
We think a more sustainable way of producing is possible. We've always loved creating things with our hands. We used to do it for ourselves, for our friends and family… until we decided to make this our way of living; together with our daughter we're the six hands behind this brand. We're most grateful to all people who support us locally and internationally.
More